This week's Memory Lane Topic is "Pictures Tell a Story." I always enjoyed photography as a hobby; I was actually in the photography club in high school (Culver Girls Academy). So this one is especially fun.
Here we go on a pictorial adventure . . .
There you have my pictorial tour. These photos are just a few of the
many, many
photos I took over Labor Day Weekend 2009 in Chicago. These are from the walking tour I took Andrew and Livie on that Monday.
Click the button to see this week's other Memory Lane Friday posts: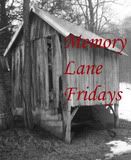 Next week's topic is "Bad Hair Day."