Today's Memory Lane Friday topic is "New Shoes." I'm going to talk about running shoes.
Before I joined the Air Force, it seemed like I could wear
any
running shoes I picked out at the store. I could've picked out a pair based solely on the colors. Or, I could've picked out a pair because I saw them on a commercial . . . or because they were on sale . . . or because of the brand . . . it didn't matter which ones I picked out, except for ensuring they were my size (7.5 at the time).
Now, at this time, I'd run because it was good exercise, but it certainly wasn't one of my top cardio staples. My usual cardio was using the elliptical, taking a class (the cardio-boxing type classes were my favorite), or maybe riding a stationary bike or going swimming. Running was my last choice.
However, when I decided I wanted to go into the Air Force, I knew I'd need to run more, especially since I'd have to run certain distances for time (the faster, the better), and the more I ran
before
I joined the Air Force, the easier the running tests would be.
So I started running more.
Well, guess what? Running started getting fun, and moved up my "Cardio" list. And during this time, while my running mileage increased, I could
still
wear
any
type of running shoe without having any discomfort/injury issues.
When it was time for me to head to training, my info packet stated to bring "Running shoes (conservative color, high quality)" with me. So I went to some athletic store in the Chicagoland area to get new running shoes. Somehow, I had it in my head that I needed to find white or almost all white shoes, or, if possible, white shoes with blue accents (even though the packet simply indicated "conservative color"). Maybe I'd been talking to someone who
suggested
I try to find all white shoes . . . who knows.
I didn't find
all white
shoes, but I did find a pair that were mostly white, with a few black accents (for instance, the swoosh was white, but outlined in black and the soles were black).
During the 12.5 week training, I wore these shoes all the time for PT (Physical Training), and I never had a problem with them. They were comfortable.
At some point after training, I must've gotten new running shoes to replace the now worn down white ones, because I remember having a completely different pair (maybe a couple different pairs) by the time I got to my second duty assignment in Tucson, AZ.
By this time, I was running regularly, and it was fun. But this is also when I realized that the
type
of running shoes I chose were starting to matter. See, I'd gone to some sports store and after briefly (VERY briefly) talking to someone, I picked out a pair of silvery-gray and white shoes. Supernovas, I think? The first run in these new shoes ended abruptly because I was feeling a sharp pain in my right knee. The second and third runs? Same thing. Okay, these weren't going to work.
I knew of a running store
specifically
geared towards running stuff - I'd passed it every day on my way to work - and decided to go there, instead of going back to the generic "sports" store. The following Saturday, I took the Supernovas in as well as my previous pair and told the guy "Help me, please!" explaining the knee pain, and everything.
He spent a lot of time talking to me and asking me questions about my running, watching me run up and down the street, and finally suggested a type of shoe (Brooks Ariel). I tried them on, and they were comfortable right away. I ran down the block and back. Still comfortable. I'd take 'em. He even told me that, if by some off chance they started causing knee pain, or any other kind of discomfort during my first few runs, I could bring them back and we'd try a different pair.
I never had a problem with them - not one little ache or knee pain in the 400+ miles I ran in them.
I figured out after 400+ miles in these shoes, that once I started getting a bit achy in the knees and lower back, it was time to "retire" these shoes and get a new pair of Ariels, and that would always do the trick - I'd be back to pain free, comfortable running.
So, needless to say, the only pair of running shoes I'll buy is Brooks Ariels. But now I'm in an 8 instead of a 7.5. (My feet grew sometime between Livie's birth and our moving to New Mexico.)
Here's my newest pair. I bought them a number of months ago so I'd have them on standby for when I had to "retire" the previous pair.
The previous pair has been retired recently, so I haven't logged too many miles in these yet . . . maybe 40 - 50 miles or so, mostly on dry trails (crushed limestone), streets, sidewalks, and treadmills (at the gym and also in my parents' basement).
That's why they're still clean (aside from some dirt on the bottom which you can't see in the photo) and new. And they're the most recent pair of shoes I've bought for myself.
I love the green accents. The "lime" green seems much brighter in person, though. All my other Ariels were silvery gray and blue, so the green is a nice change.
Memory Lane Friday is hosted by Two Bears Farm and the Three Cubs. Please click on the button below to check out her post, as well as this week's other Memory Lane Friday posts: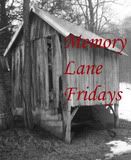 Next week's Memory Lane Friday topic is another "No Theme"! Come back next week to check it out.