This week's Memory Lane Friday topic is
"Halloween, Part I."
I'm going to relay a very early memory of mine. I can't believe I can remember this!
Back in 1972, when my parents and I lived in El Paso (where my grandparents spent nearly their whole lives), I
vaguely
remember a Halloween dressed up as a clown. This was the first Halloween memory that I have. I just remember snippets, though, just a few hazy "snapshots" of that evening's adventure.
But first, the costume. Apparently, my grandmother, Oma, made the costume herself.
Here I am (with Oma in the background), in the costume she made for me:
"Halloween 1972" (in Oma's handwriting) is on the back of the photo. That means I was less than two weeks away from my second birthday.
I vaguely remember going out trick-or-treating with my cousin Monica, who was also dressed up as a clown. She was a number of years (4-5?) older than me. I'm not sure if Oma made Monica's costume, as well. But she might have.

Now, this particular Halloween evening, I really wasn't sure what was going on - especially since both Monica and I were dressed up in clown outfits. Do very young children really understand the concept of Halloween? I do remember feeling the festive atmosphere, though - that this was a fun adventure we were going on - even though I didn't quite understand the whole trick-or treat concept, yet.

Recently, I was talking to Oma and Naná about that long-ago Halloween. Naná was actually reminding me that Oma had made that costume, not knowing if I already knew this tidbit.

Also, Naná, who is Monica's mother, recalled that I was so amazed at what was going on. She said I kept stealing glances at Monica, a very surprised look on my face: my eyes wide, my jaw practically hitting the ground. While Naná was recalling this memory to me, she had a huge smile on her face, and she kept chuckling. Must've been such a funny and cute thing for an adult to watch.
I'm assuming that Halloween 1972 was my first time trick-or-treating, but I'm not sure about this. I'll have to see if my mom remembers.
And now, just because it's so incredibly cute, I'm going to finish this post with a photo of Livie's first Halloween costume (she was just about 8 months old):
Aww, Baby Liv as a Red Chile Pepper!
First, I thought this costume was SO cute for a baby. Second, I thought it was very appropriate, since we lived in New Mexico at the time.
Memory Lane Friday is hosted weekly by
Two Bears Farm and the Three Cubs
. Please click on the button below to view her Memory Lane Friday post. While you're there, please take a moment to read other bloggers who may have linked up their Memory Lane Friday posts.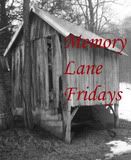 Next week's theme is
"A Spooky Story."