This week's Memory Lane Topic is
Halloween, Part II
!
Halloween is fun, isn't it?!
Anyway, I'll write about Livie's Halloween experiences this week.
Last week, I posted a photo of Livie in her very first Halloween costume, a red chile pepper. Here's a different photo of her in that costume. It was taken a couple days before Halloween, just so we could see how cute she'd be:
Cute, huh?! And being a chile pepper is PERFECT for a New Mexico baby!!
Anyway, we didn't take her trick-or-treating because she was only 8-months-old at the time. We did, however, hold her as we answered the door and passed out candy. It was funny (and fun!) . . . we kept getting lots of comments, like, "Aww, look at the baby dressed like a chile!"
Here she is, just before trick-or-treating started. I'd wanted to get a photo of her next to the bowl of candy. Yes, Andrew has a surprised face. Because she was so curious about the bowl of candy (due to the brightly colored wrappers and the fun-looking bowl, I guess) - she apparently kept leaning forward, trying to reach it! He was momentarily having a hard time keeping his grip on her!
See her little outstretched hand? "If I could just get a little closer . . . "
The next year, we were in Iowa at my parents' house. By this time, she was a year and 8 months. And she LOVED cows.
So she was a cow for Halloween!
(FYI: she has Aquaphor smeared all over her mouth and nose because of chapped skin.)
Since my parents' house isn't in a very trick-or-treating friendly neighborhood, we trick-or-treated at the local mall. Like I said, she LOVED cows, and
had
to take her stuffed animal cow with her.
Since this was her first time trick-or-treating, she really wasn't sure what was going on.
Abuelita has just given Livie one of her treats after we returned.
The following year, she was a pumpkin. And boy, did she LOVE being a pumpkin! While she sorta-kinda understood the concept of trick-or-treating, she had just as much fun showing everyone her costume and her ghosty treat bag, which is what she's doing in the photo below.
This was our first Halloween in our new house. I stayed home handing out candy, while Livie went out trick-or-treating with Daddy.
Now here's a funny story. There's a house just down the street whose owners change the outdoor light bulbs to red ones at Halloween, giving a creepy glow to the house.
Well, Andrew and Livie got to this "red" house, and as they walked up to the front door, they noticed a "spooky statue" sitting in the corner of the front porch. As Livie went to ring the door bell, the "statue" moved, standing up.
Needless to say, it startled her!
It was just the guy who lived at the house, not even in costume, just waiting to hand out candy. But in the darkness, with the Halloween ornaments all around and the red glow coming from the Halloween light bulbs, she hadn't noticed that he was real.
Andrew and the guy chuckled about it, due to the cuteness of the incident.
Later on when they got back, Livie kept going on and on about the spooky red house! It was REALLY SPOOKY!!
Here she is after their return, with all her loot. She has her "I'm not sharing" face, doesn't she?!
She has her ghosty treat bag and her jack-o'-lantern at her feet.
Last year, she was a spider.
She wanted both Mommy and Daddy to go trick-or-treating with her this time, so she could show me the spooky red house. While it had startled her the year before, she was absolutely ready to go there last year! She even decided it would be the
first
house we went to . . . and in the photo below, you can see we've just trick-or-treated at "The Red House"!
And I'll end this post with last year's kitty pumpkin. Livie was very proud of it.
Please click on the button below to read this week's post by Two Bears Farm and the Three Cubs (who hosts "Memory Lane Friday" every week):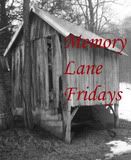 Come back next week to read "No Theme" posts!