This week's Memory Lane Friday topic is "A Time You Were Sick."
There was this one particular time I was sick in high school, and it's this one time that I want to talk about. It's one of those
Teens Don't Necessarily Have the Most Common Sense
type of stories. And yes, it will have a horse-related theme incorporated into the story.
It was my sophomore year at Culver Girls Academy. I was in a quad (4-person room) with Candi, Kristi, and Wendy, in the dorm called Tower. Candi and Kristi were seniors, and Wendy was a junior and the only non-equestrian among us (but she usually came out to watch us in Equestriennes performances, or Culver-sponsored horse shows - the home ones, obviously and not the away ones).
Well, anyway . . . back in the day when I was a student there, if you wanted to be a part of the Varsity Jumping team (the team that went to horse shows, competing in hunters/jumpers/hunter points, etc), you had to be enrolled in the Equitation/Horsemanship department (taking Equitation - Horsemanship - classes during the week), and try out/make the JV Jumping team.You had to participate on the JV team for at least one semester before being allowed to try out for the Varsity team.
So my first semester my freshman year, I made the JV team, as did a bunch of other students, including Gavin, a fellow freshman. He and I had also been involved in
Pony Club
in our respective home towns before attending Culver.
When the second semester of my freshman year started, I'd found out when Varsity Jumping try-outs were (I was also eligible to try out for the
Equestriennes
at this time, too) and I was there!
Needless to say, I'd made the team as a freshman, as did Gavin. The two of us were the only freshmen on the team.
So . . . fast forward to sophomore year. I can't remember if it was late in the first semester, or early in the second. But it was wintertime and COLD in NW Indiana. Maybe February?
A few of us Varsity Jumpers were getting ready to head to a one-day horse show in Michigan City, IN on a Saturday. By mid-week, I was starting to feel run down, like something was not quite right. I wasn't sure if it was just from classes, studying, and all the other stuff I was involved with - but I just wasn't feeling 100%.
By Friday, though, I knew something was wrong. We'd been at the Riding Hall after we'd ridden that afternoon, just making sure we'd had everything we needed for the show the next day. Since it was just a one-day show, we'd leave early on Saturday to get there, we'd show, and then come back late Saturday evening, so we only needed to organize stuff for one day. We typically stopped at a steak place on our way back to campus so we could eat something tasty for dinner.
This Friday night after wrapping up at the Riding Hall, we'd dispersed our own separate ways, each of us going to our respective dorms/barracks. Candi and Kristi were on the Varsity Jumping team with me, and the three of us headed back to our dorm to shower, change into cozy pjs, and then hang out in our room . . . eventually going to bed at lights-out.
Well, I just felt HORRIBLE by this point. But I didn't want to say anything. I really wanted to go to this horse show. This was my first
full
year as a Varsity Jumper. And while I wouldn't have been bumped down to JV because I was sick and had to miss a show or anything like that . . . it's just one of those weird thought-processes of a teen's brain. I didn't want to miss the show. And I was NOT going to the infirmary! (Nothing wrong with the infirmary . . . I just wasn't going.)
Anyway, I showered and changed into my pjs and headed straight to my bed. Luckily, my bed was right next to the window.
Now, I think I must've just had some viral bug that was going around (no gastrointestinal, um, "issues" to deal with - just a fever and fatigue) so it's not like I could've done anything to get rid of it (other than to rest, drink fluids, and probably spend a night or two in the infirmary so as not to spread the bug).
But back to the story . . . on this particular cold, winter evening, I was hot. I was burning up.
Tired
Fall-down exhausted. Had a headache. I went to my bed. I felt like I was going to burn a hole through my sheets. So I opened the window.
In the wintertime in NW Indiana.
It felt WONDERFUL. Ahhh, relief. Nice, cool air flowing over me. I was in a haze. Was I awake? Or asleep? I vaguely remember hearing voices. My roommates? Friends from across the hall? They were familiar voices, nonetheless. Wendy? Rosann? Kristi? I'm not sure.
I remember that the bedroom lights were on.
I then remember that Wendy came over and closed the window. Somebody had gone to our dorm mother's apartment down the hall and had gotten a thermometer. In my mouth it went. Obviously, I had a fever. I was burning up. I wanted the window open. Somebody got me a glass of water; another got me a glass of orange juice.
I think I'd said I didn't want to go to the infirmary. That I was going to go to the horse show.
I have a little bottle of Tylenol in the lock box in my desk. Please get a couple for me.
Our dorm mother came in to check.
No, please don't make a fuss. I'm going to bed; I'm okay.
I slept fitfully. I had to keep getting up to go to the bathroom, after all the liquids everyone had pushed on me. My three roommates must've really bundled up that night, because I remember begging and pleading to keep the window open a crack. But I'm assuming one of them closed it after I'd fallen asleep.
And then the alarm clock (mine? Candi's?) went off way too early. Horse show mornings always start off really early. Especially early if you've been sick the night before.
We'd made it to the Riding Hall that morning, got the horses loaded into the trailer, made sure all the equipment and necessities were loaded in the "tack room" portion of the trailer, and we were ready to load ourselves up. Typically, those teammates with the most seniority would get to ride in the dually's cab, enjoying either heat or a/c, depending on the season. Everyone else would have to ride in the "tack room" portion of the trailer. Shhh, that probably wouldn't fly very well these days.
Well, since I would've had to ride in the trailer as a sophomore, with a bunch of juniors and seniors taking up the dually (our coach would've been driving), I was kinda milling about, waiting til the last moment before getting in.
But then Candi came to me and stated, "You're riding in the truck." She had a
you're not arguing with m
e tone of voice.
Okay. I wasn't going to argue with her. Not only was she giving me an order, I wasn't feeling like arguing. I just wanted to curl up and go to sleep. But I desperately wanted to show at the same time. I was sick. I was a teen. Don't try and find the logic.
As I was getting ready to get into the truck, I heard somebody - another teammate (Drew, maybe?) - arguing with Candi. All I could hear was Candi's voice quietly, but forcefully saying, "She's SICK! She WILL ride in the truck. Do you understand?"
And that was it. I was definitely riding in the truck. I think everyone knew I wasn't feeling well, but it was something that nobody talked about, other than that brief exchange I'd overheard.
Fortunately, I didn't get anybody else sick, though I vaguely remember trying not to breathe near anyone else. And I brought home some ribbons, too. Nothing stellar, but in the ribbons, nevertheless.
And that is how I remember the event. Now, keep in mind I was sick and in need of sleep, so I may not have remembered it
exactly
as it happened, but this is the way my brain stored my memories of this event.
Oh, and that Saturday night's sleep? It was the smartest thing I'd done that week.
Riding Hall circa May 2009, Culver Academies, Culver, IN
Please click on the button to read the rest of this week's Memory Lane Friday posts, hosted, as always, by "Two Bears and the Three Cubs":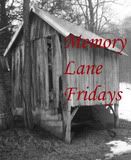 Next week's Memory Lane Friday is "No Theme" so it'll be a nice surprise to see different topics.