This week's Memory Lane Friday topic is "A Restaurant."
Yes, I'm going to write about a Mexican restaurant. For some reason, I always seem to crave Mexican food more than any other kind.
Okay, so I was originally thinking of writing about my favorite Mexican restaurant in El Paso, TX, but then I decided I'd write about a different Mexican restaurant that Livie actually ate at when we lived in New Mexico. This restaurant is in historic
Old Mesilla, NM
; not only have I been there a few times with my grandparents, but I've taken Andrew there, and finally Livie. The restaurant's called
La Posta
.
When I was younger, I first went to Mesilla with my grandparents. It was just a day-trip from El Paso, where my grandparents lived, just about an hour's drive from their house. At some point during one (or more) of our trips, we actually ate at La Posta for lunch (the other times, we typically ate at the Double Eagle restaurant in another part of Old Mesilla's plaza).
La Posta, by the way, is on the National Register of Historic Buildings, and also has a colorful history, laying claim to such visitors as Billy the Kid and Pancho Villa!
Here's another interesting note: apparently, some time after the Civil War, the La Posta compound became a stop on the Butterfield Stagecoach Line.
So. . .after Andrew and I got married and were stationed in the greater Boston area, we ended up going to El Paso every year around Easter time to visit my grandparents for about 5-7 days. During our trips to El Paso, he and I typically took a day-trip to Mesilla, and inevitably we'd end up at La Posta for lunch. I always loved getting their beef flautas, which came with a side of refried beans, some rice, and guacamole.
We'd just finished a meal at La Posta when I snapped this photo. Andrew has allowed me to take a photo of him outside. By the way, I always loved the look of chile ristras - you can see one hanging behind Andrew's left shoulder.
La Posta, Mesilla, NM, circa spring 2004.
He's reluctant to get his photo taken a second time. Again, I love the chile ristras hanging outside La Posta.
La Posta, Mesilla, NM, circa spring 2004.
Then, in the spring of 2006 when Livie was about 4 months old, Andrew and I ended up getting orders for an Air Force base in Alamogordo, NM. Well, instead of being hundreds of miles away, and only being able to head to Mesilla when visiting my grandparents in El Paso, we were now only about an hour and a half away by car. We didn't get to Old Mesilla too often since Livie was just a baby, but we
did
get there to visit once in a while, while living in Alamogordo.
And during our last weekend living in New Mexico, we took one last trip to Mesilla for one final touristy trip. Of course, we
had
to take Livie (1.5 years old at the time) to La Posta for lunch, since we weren't sure when or if we'd ever make it back.
I figured Livie would like it because it had some fun stuff in the lobby area, as well as fun décor in its various dining areas. In the
lobby
, not only did they have a gift shop, they also had trees, a skylight, and a huge cage with brightly colored parrots! They also had a fish tank or two, one of which had piranhas, if I remember correctly. Plus, the trees in there had lights wrapped around them for a festive ambiance.
Andrew and I usually ate in what's called the "
Lava
" room, a bright room with natural light and trees. But when we took Livie, we ate in "
The Bunkhouse
" room. It had lots of lights and stuff for Livie to look at while we ate. I, of course, ordered the beef flautas, as usual. I don't remember what Andrew ordered. But for Livie? We ordered her a quesadilla from the kids' menu. It came with refried beans, which she gobbled up, and a milk. To this day, she still loves beans, by the way.
Baby Liv's enjoying the lights and décor at La Posta.
La Posta, Mesilla, NM, circa 12 August 2007.
We're in the lobby, waiting for our table. Behind Andrew's shoulder, you can see a fish tank.
La Posta, Mesilla, NM, circa 12 August 2007.
I don't remember what Livie's pointing at, but it must have been very interesting. Oh, and look at that shaggy hair!
La Posta, Mesilla, NM, circa 12 August 2007.
Here we are, waiting for our food. I'm not sure why, but we kept Livie's little "La Posta" cup as a souvenir. It's got a color drawing of La Posta's exterior on it.
La Posta, Mesilla, NM, circa 12 August 2007.
I always enjoyed La Posta's food; I remember it being delish! I have such fond memories of going to La Posta with my grandparents, with Andrew, and finally with Livie. I'm glad my last trip there was with Livie so we can say she's been there. There's just something fun about going there.
Memory Lane Friday is hosted by
Two Bears Farm and the Three Cubs
. Please click on the button below to read Two Bears' post, and the rest of this week's Memory Lane Friday posts: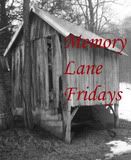 Come back next week when the topic is "New Shoes."