This week's Memory Lane Friday topic is "A Collection."
I can't really remember any collections I had when I was younger, unless you count the "Black Stallion" series of books by Walter Farley, and his "Island Stallion" books, too.
Sure I had a few Breyer horses, but I didn't really
collect
them.
But when I was on active duty in the Air Force, I actually began collecting something. They're what most of us in the Air Force would traditionally refer to as an "RMO" - a round, metal object. And there's a reason we call it that, which I'll get to in a moment.
First, I'm going to do a little explaining about what an RMO actually is, trying not to "talk shop" and keep it simple.
For those of you who don't know what I'm referring to by "RMO," it's a coin - whether a unit coin, like your squadron's coin or a higher level unit (for example: a Group- a number of squadrons with similar functions, or Wing - a number of groups working towards a common goal), or the office of a group or wing commander. It could be from a particular "extracurricular" group, like the Company Grade Officers (CGO) Council (CGOC), an organization made up of Second Lieutenants, First Lieutenants, and Captains. Or a First Sergeants organization, or even the installation's Chief Master Sergeant organization.
You can buy some RMOs, such as a CGOC one, if you're a member of that organization.
But the ones that mean the most are the ones that you'd earn, such as a commander or a Chief Master Sergeant presenting one to you for a job well done.
I have a couple of those, given to me by a couple of my commanders. The one that means the most was from the Mission Support Group Commander, whose group I was in because I was a logistics officer, and he oversaw that function. And I have a special one given to me by a Chief Master Sergeant of a Numbered Air Force (which more or less oversees a number of Wings with a common goal).
Here are mine, all jumbled up (I had to move them so I could find a spot with good light for a photo):
Here are two of a few of mine that were presented to me for a job well done.
The one on the left is from the Mission Support Group Commander. The one on the right is from a Chief Master Sergeant - the Senior Enlisted Adviser for a particular Numbered Air Force headquartered in Tucson, AZ.
Okay, so the custom of calling it an "RMO" . . . I'll have to do a little research on
when
and
why
it came to be like this. But, let's just say that you really should have one on you, because it could get expensive.
For instance, if you're at the Club on base after work, and somebody "drops" his/her coin on the bar, that's a challenge for you to "drop" yours. If you don't, you could be responsible for buying a round of drinks (doesn't have to be beer or any other alcoholic beverage - it could be soda for those who don't drink alcohol - designated drivers, pregnant women, or whatever).
Also, if you drop it, I mean literally drop it - say you're fishing in your pocket for your car keys and you accidentally drop your RMO on the floor as you turn your pocket inside out . . . that's considered a challenge, and you could be responsible for buying a round.
Plus, a commander, first sergeant, or someone could come by and "coin check" you and if you don't have one . . . well, you know . . .
And another thing, if someone catches you referring it as "coin" and not RMO (Round Metal Object), then . . . again, you know . . . which is why, now that I'm finished with this explanation, you'll never again catch me calling it anything other than RMO.
Click on the button to check out the rest of this week's Memory Lane Friday posts: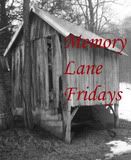 Come back next week when the topic is "A Time You Were Sick."