This week, Memory Lane Friday is another "No Theme" week.
I've decided to write about a time when Livie and I were in El Paso, TX, visiting my grandparents.
It was Labor Day weekend 2006. Andrew was still deployed, not due back for another month. So I decided to spend the long weekend with my grandparents, instead of in Alamogordo, NM, just me and Livie (just about 6.5 months old at this point).
I had Saturday, Sunday, and Monday off. So Saturday morning, Livie and I made the drive (about 70 minutes) from Alamogordo to El Paso.
We had a nice time just hanging out on Saturday with Oma and Sir Rafa, just the 4 of us.
But Sunday morning, I noticed something different. Liv was a bit fussy, not really wanting to nurse. She would take a bottle, but would be fidgety, not herself.
By that evening, it had started raining in El Paso. It smelled really good, fresh. I love the smell of rain in the desert Southwest.
Something was wrong, though, with Livie. She had a low-grade fever and by this time had developed a rash. She was still not nursing or really wanting to take a bottle.
Hmmm.
We were far away from home. Not sure what to do, I asked my grandmother if she knew of an "urgent care" facility nearby.
She didn't. However, William Beaumont Army Medical Center was located at Ft. Bliss, just minutes away. I guess that was my only option, taking Livie to the ER. I mean, she hadn't really been taking in enough fluids, and I was nervous about her health.
Plus, there was an outbreak at her daycare - the coxsackie virus (or hand, foot, and mouth disease). It causes a rash and mouth sores (often inside the mouth, not just on the lips).
Oma offered to go with me, but for some reason, she decided to drive her own car, and Liv and I would go in mine. She was worried about getting back home. I didn't ask questions.
She would drive in front, and I'd follow. When we headed out, it was
pouring
rain. In the middle of the night - must've been after midnight! Not the time or the conditions I wanted my grandmother driving in, right?
Well, as we got close, somehow she wasn't sure where the entrance was, so we made a big loop all the way around the facilities.
Livie was wide awake, having been wide awake ALL DAY. No naps, no cat naps. Fussy. Not herself. I couldn't wait to get there and get out of the car.
Finally, we got to the entrance, where we had to stop and show our military IDs to the MPs at the gate (although in Oma's case, she had a "military
dependent
" ID). It had only been maybe 10-15 minutes, but with a crabby baby, it felt like forever.
Then we made it to the ER entrance. We parked next to each other and headed in, with Livie still fussy.
After filling out paperwork and having the nurse call us back to an exam area, the ER doc came in and checked her out.
But do you know what Livie did? As soon as she saw the doctor, she smiled at him!!
She had been fussy ALL DAY. She hadn't napped ALL DAY, nor had she nursed or taken a bottle ALL DAY. It was the middle of the night!! And she SMILED at the doc!
Oh, my goodness. I was flabbergasted. Tired. Puzzled.
He briefly checked her out. I told him I was worried it was coxsackie, because of the outbreak in her room at daycare on our base back in Alamogordo.
He was confused. "So you live here, but why do you go to New Mexico?"
"No," I explained. "I'm in the Air Force. I'm stationed in Alamogordo. I'm just here, spending my 3-day weekend with my grandparents who live here in El Paso. Livie has this rash, and won't nurse, won't take fluids. I was worried that she'd caught coxsackie from day care, because her room had an outbreak."
The doc disregarded me and said, "No, it's thrush. Get those Pedialyte-type 'popsicles' and give her one to numb the soreness in her mouth. Then try to nurse her or give her a bottle."
Then off he sent us.
I'm still sure it was coxsackie and not thrush, because she had those little sores in her mouth, not a white coating on her tongue.
Ahh, well. It would've been the same "treatment" either way.
I almost ended up leaving a day early, but since I didn't really get sleep, I decided I'd better stay Sunday night, so both of us could sleep well before I drove us both home on Monday.
She became fussy again as we headed back to my grandparents'. She wouldn't sleep unless someone was holding her - like ME!
Oma was awesome and insisted on sitting in the rocking chair in my room holding Livie so I could nap for an hour or two.
Then I took over, and it was nearly dawn. Oma went to her room to get a bit of sleep herself. My grandfather had slept all night, not knowing the "adventure" we'd been on.
And you know what? The little stinker was back to her normal self the next day, once the sun came up.
At some point, I went out and got those Pedialyte pops and froze them. Later on, I gave one to Livie, hoping it would numb her little mouth enough that she'd nurse or take a bottle. Luckily, as the pops melted in her mouth, they'd provide the hydration she needed.
I also made sure to give her infants' ibuprofen or infants' acetaminophen, according to the dosing instructions on the package. That helped, too.
Sure, she still had some wet diapers (but not as often as usual), so I wasn't panicked - just a bit nervous.
Later on, she was more like normal, thankfully.
To this day, Oma and I occasionally reminisce about "that time we had to take Livie to Beaumont Hospital in the middle of the night in the pouring rain." And we laugh at the fact that when the doc came in, she suddenly smiled at him as though nothing were wrong! Li'l stinker!
Here are a couple photos of that weekend:
Come back next week when the theme is "A Favorite Holiday Food."
Please click on the box below to read this week's other Memory Lane Friday posts.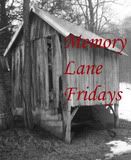 Memory Lane Friday is hosted by Two Bears Farm and the Three Cubs.