This week's Memory Lane Friday topic is "Shopping." How fitting for "Black Friday," right?!
I've been wavering back and forth trying to pin down the shopping experience I wanted to write about this week. While I know it's "Black Friday," I couldn't come up with a seasonal anecdote.
So I finally decided to write about my shopping trip to pick out my wedding dress. Okay, so this shopping trip happened in the springtime, but the actual wedding happened during the holiday season (mid-December).
This was back in May 2002. I was stationed in Tucson, AZ at the time, and Andrew was in Fayetteville, NC. Andrew and I were planning on doing a justice of the peace ceremony in early summer, so we could get the marriage certificate and get orders to the same Air Force base at the same time.
That
had
to happen by the end of June at the very latest, or I'd get orders for who-knows-where. And Andrew? Well, he'd have to stay at his base for another couple years. And who knows if we'd ever make it to the same place at the same time.
But we were still planning for our church wedding, which, as of February 2002, had already been reserved for December 14th at Holy Name Cathedral in Chicago.
So here I was, in Tucson, with my bridesmaids were scattered all over the U.S. (Texas, Pennsylvania, Colorado, and Nevada). My mom? She was in Iowa.
Wondering where to start, my maid of honor suggested David's Bridal. The closest one to me was in Phoenix - nearly a 2 hour drive northwest.
So I called the 800 number to find out where exactly they were located, and to schedule an appointment. There were actually TWO of them in Phoenix. I was glad I called because I would've had no idea which one was closer to me. And I was able to get a Saturday appointment, late morning, so I'd have time to head up there and not have to rush.
The day of the appointment, I called to get directions off the interstate. Then I headed out.
I was excited and a bit nervous about picking out "The Dress." But I was also a little sad, disappointed, because none of my bridesmaids would be with me. That didn't discourage me, however. I was determined to have fun, regardless.
When I got there, I was a bit overwhelmed, but the sales associate I'd be working with was very good at listening to the ideas I had, and then helping me find styles that I'd like. I explained that I'd be getting married in Chicago in December, so that helped her figure out what look I was going for, and what kinds of dresses to help me find.
The first time I went in the dressing room, though, I realized that I had needed my bridesmaids - at least one of them - because there's a certain bridal undergarment that the sales associate gave me, and - well - you really need help putting it on.
But I signaled to her to please come in and help me with it. Then it was on to trying on dresses.
There was one that I absolutely LOVED. It had this long train with lace, sequins, and faux pearls.
But
. . . and of course, there's a but . . . it had sleeves I did NOT care for and the shoulders were way too poofy for me, so I had to say no.
I tried others, explaining what I loved about each dress, and what I didn't quite like.
Finally, I tried one on and thought,
This is it
. Okay, so the train was not quite as long as the other one I'd loved, but I nevertheless loved all the details of this particular dress.
Here's the one I picked. (This is from the wedding day photo session).
© Brad Baskin – 2002
We then picked out a veil that matched - it had little rhinestones and faux pearls, just like the dress. And then the shoes (just white satin).
And to top it off, since I'd be getting married in
December in Chicago
, I picked out a white satin cape with faux fur trim. Check out
this link
to see what it looked like. And I also got the matching faux fur hand muff. All the sales associates were
so excited
to be able to see the cape and muff on an actual person! See, they were in Phoenix, so why would a bride need a bridal cape there? Right?
Anyway, since I was heading to the Boston area in a few months, I opted not to get it altered there in Phoenix. The associate let me know the closest store where I could get it altered once Andrew and I moved to Boston for our new assignment. It was in the Natick, MA store, by the way (the poor directions and my getting lost on my way to my first alterations appointment are details for another story).
Oh, and on my way out, I bought my dad a baseball-style cap in black, with white embroidering stating "Father of the Bride"! It was cute. I think he still has it.
Here are two more views of the dress. First, the train (my dad's doing "the hand off"):
© Brad Baskin – 2002
And another view of the front:
© Brad Baskin – 2002
Okay, okay, so here's one more photo of a couple of my bridesmaids doing up my bustling. This was so I could walk around easily during the reception.
© Brad Baskin – 2002
So yes, I was a little sad that I didn't have my friends with me while shopping for "The Dress" - I felt their absence most while in the dressing room alone AND when I was out in front of the mirrors looking at my final choice.
But I have to say it was a good adventure after all, and a nice way to remember my first trip to Phoenix.
Please click on the box below to read the rest of this week's Memory Lane Friday posts.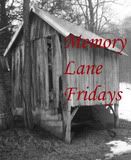 Memory Lane Friday is hosted by Two Bears Farm and the Three Cubs.