This week's Memory Lane Friday topic is "A Memory You are Thankful For," just in time for Thanksgiving.
Anyway, I think that since we're looking forward to Thanksgiving, I will write about the last Thanksgiving I spent with
both
my grandparents in El Paso, TX.
Back in 2006, when Andrew and I were still on active duty, we were stationed in southern New Mexico. Since Andrew had come back from his deployment at the beginning of October, we were fortunate to have him with us for Thanksgiving '06.
Since my grandparents were only about a 70 minute drive south of us, we decided to celebrate the holiday with them in El Paso. My Uncle Hector would be there, too.
We were really looking forward to spending the holiday with my family, since my grandparents always enjoyed the company, and Oma's house . . . okay, her
kitchen
. . . was always such an inviting, cozy place to spend the holiday. Plus, Oma's stuffing is absolutely delicious. It is famous. Though I've had delicious stuffing in the past, I've never had stuffing better than Oma's. Maybe it's simply because it's my
grandmother's
stuffing, and the one we almost
always
had when I was growing up. But it's the one I think of when I imagine digging into a home-cooked Thanksgiving meal.
*In another post, I'll have to write about the year my mom tried a new stuffing recipe at Thanksgiving; maybe I'll write about it in a few days.*
Anyway, sometime before Thanksgiving 2006, a special advertising by the Officers' and Enlisted Clubs on base caught my eye.You could order a fully cooked, traditional Thanksgiving meal - from the roasted turkey, to the stuffing, mashed potatoes, salad, rolls, and your choice of a pie (either pumpkin or apple, if I remember correctly).
I don't remember how it worked exactly. You just had to call the club to pre-order the meal and give a credit card number. The order had to be in by a certain date, obviously, so that the Clubs' kitchens could order enough ingredients and have the time to prepare everything.
But as far as having enough food for the number of guests in your party, I don't remember the details . . . I think you just had to tell them the number of people you needed to serve and they'd ensure they'd package enough food in your order and charge accordingly? Something like that.
Then you could pick up the meal on Wednesday, or between a certain time period on Thursday (like, between 10:00 AM and noon or 1:00 PM or something, so everyone could be home with their families by Thanksgiving afternoon).
Well you can probably see why the advertisement caught my eye. 1.) I didn't want Oma to have all the stress of cooking a full Thanksgiving meal for all of us (there'd be 7 at her house for Thanksgiving dinner), and 2.) Livie would be 9-months-old at the time, so I knew I wouldn't be able to give 100% of my energy and attention to helping prepare the meal.
So I decided to order the meal for us (sometime at the beginning of November, I think), and I called Oma to tell her we'd be providing the whole meal. But I told her she could prepare her famous stuffing and any other side dishes she so desired (sweet potatoes, an additional salad and desserts, for example). I knew she'd feel like she HAD to prepare something, so a side dish or two would be plenty for her (especially since Hector would be there to help).
Okay, so I didn't exactly think of how to transport the whole meal to my grandparents' but somehow I knew we'd make it work.
Fast forward a couple weeks to Wednesday of Thanksgiving week. When I ordered the meal, I said I'd pick it up on Wednesday afternoon after work. Andrew picked it up while I picked up Livie. Then we headed home to put it all in the fridge.
The next morning, we got up and got ready to head to El Paso. We had those insulated bags that keep foods either hot or cold for something like 3-4 hours at one time, and we had a couple coolers. We packed up the foods in the bags and coolers, packing lots of blue ice in each so the food would stay safe. Andrew got the food and our overnight bags into the car, and I got Livie ready to go. Packing and transportation of the food actually did work, much to my relief!
Then we were off.
When we got to my grandparents' house, all we had to do was heat up the food and then sit down to eat. While the oven was preheating, Andrew brought in the overnight bags, and I helped bring in the food, while Hector gladly entertained Livie.
The turkey and stuffing went into the oven to heat up. Mashed potatoes, gravy, and similar items went into the microwave to heat up.
Within minutes, the kitchen smelled just like Thanksgiving. It smelled like home. It WAS home.
We were all looking forward to eating. In the house were Oma, Sir Rafa, Hector, Naná, Andrew, Livie, and me.
We
finally
sat down to our meal (after about 30 minutes of prep). It was good. And I was able to tell Oma and Sir Rafa that I was able to eat an Officers' Club meal with them. (I'd once promised them I'd take them to the Officers' Club for a meal, but due to one reason or another, I wasn't able to do that. This was the next best thing.)
Here are a few of the photos captured on Thanksgiving 2006.
Daddy and Livie are in Oma's kitchen. We were waiting for dinner to heat up.
I was asking Livie "What's going on?" And she was doing the "I dunno!" pose.
Okay, there's the little smile.
There are a couple goose magnets on Oma's fridge. Livie loved them, so when we left New Mexico, Oma sent one of them with us. We have it on our current fridge.
Oma's holding her great-granddaughter on Friday.
Sir Rafa and Hector were relaxing on Friday.
I'm thankful for having this photo; I miss both of them.
Daddy and Livie are in Oma's guest room; there was a double bed and a crib in here, so this is where the three of us stayed. Looks like Livie just got a bottle.
I'm not sure what's so funny, but Livie seems to be laughing hysterically.
Well, I'm certainly thankful for this Thanksgiving memory. It was the last Thanksgiving Andrew, Livie, Hector and I had together in El Paso with both my grandparents. It was the last Thanksgiving I spent with my grandfather before he passed away, and one of the last Thanksgiving dinners we spent with Hector.
And now I'm hungry for Thanksgiving dinner. I can't wait!
Please click on the box to read the rest of this week's Memory Lane Friday posts.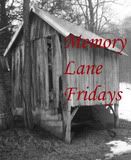 Memory Lane Friday is hosted by Two Bears Farm and the Three Cubs.
Come back next week when the topic is "Shopping."